Whoever said that Circus was on its way out hasn't been to Chicago. Right now-- there are a number of circus shows coming up in the next few weeks (and some are ending in the next few weeks, or even next few days. So don't miss them!) And I'm sure I've missed a few as well.
CIRCUS SHOWS IN CHICAGO RIGHT NOW
MOMENT OF CIRCUS 2017 - THROUGH MARCH 12

It's actually going on right now, and somehow, although I knew about it, it fell off my radar. Despite the closing of the
Chicago Contemporary Circus Festival
this year, many of the same players put on a different, smaller, more local festival called
Moment of Circus.
It's sponsored by the Moment Collective, a Chicago-based organization devoted to presenting and promoting interdisciplinary, immersive performing arts. It is an expansive, responsive, inclusive group founded by Courtney Prokopas and Christina Kirts. Presently, Moment Collective has members from the circus, dance, moving-image,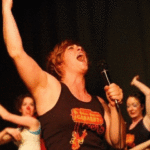 academia, street art, world music, storytelling, and comedy communities, but is constantly a growing, shifting, morphing bunch - let's make things happen, let's be in the moment.
There are three shows that you can still see, including
El Circo Cheapo Cabaret
and an aerial rope contest
Luchadores des Ropes
To find out more, visit
https:/
/www.moment2017.com/tickets
PLEASE NOTE that not all of the shows are kid-appropiate. Please check with the theatre.
---
QUEST at the Actor's Gymnasium: Closes March 19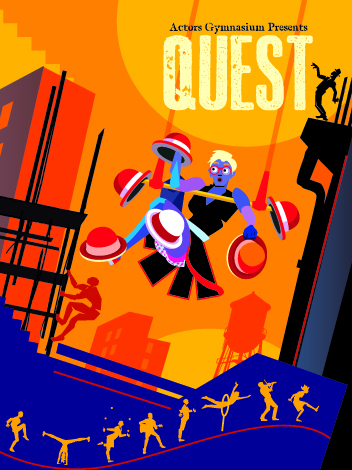 Quest is an original circus-theater production loosely based on Leo Tolstoy's short story The Three Questions. The protagonist asks three simple (but huge) questions, setting in motion a whirlwind journey to find the answers.
Our hero and her sidekicks venture through obstacles, misinformation, slapstick fun, unexpected detours, music and songs, near crises, and amazing feats of partnership in seek of answers. Fun, funny, surprising, action-packed, deeply moving, profoundly existential – something for everyone!
The show runs Fridays at 7:30pm
Saturdays 4:30 pm and 7:30 pm
Sundays at 3:00 pm through March 19.
---
The Year I Didn't Go To School: Closes March 19
Based on the book b

y acclaimed illustrator Giselle Potter,
The Year I Didn't Go To School: A Homemade Circus
is the world premiere of a wonderful autobiographical story about the year Giselle and her family moved to Italy to tour in her parent's puppet company
The Mystic Paper Beasts.
Join seven-year-old Giselle and her sister Chloë as they spend a year traveling through Italy by truck, eating spaghetti with a fried egg on it, and playing various animals in their families intimate street circus shows. This show has a lot of the local circus community in it: Julie Greenberg (of the
Midnight Circus
) plays the grandmother, her daughter Samantha Jenkins (also of the Midnight Circus) shares the role of Giselle, and Adrian Danzig (of
500 Clown
) plays the Grandfather, and Aerial Emery (of the Midnight Circus, and of the National Tour of
Pippin
)
---
CIRCUS 1903- GOLDEN AGE OF CIRCUS Mar 21-26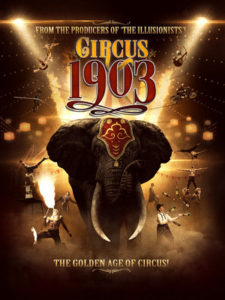 Broadway In Chicago
brings us this touring show, a collaboration between the company who created the Illusionists (touring as well) and the company that created the puppets for War Horse.
Circus 1903 takes a step back in time to resurrect the Big Top in all its former glory, packing the ring with acrobats, jugglers, clowns and a wondrous, life size puppet of an African Elephant. All of the performers are dressed in the finest retro costumes and presiding over proceedings is a mustachioed ringmaster with a top hat and a mischievous glint in his eye.
---
Cavalia's Odysseo - opens April 1, 2017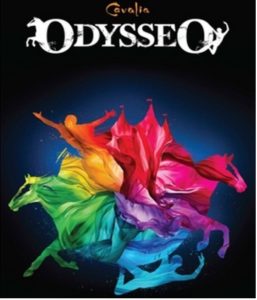 Known as the world's largest touring production,
Cavalia
is known for creating circus shows that
marry the equestrian arts, stage arts and high-tech theatrical effects at never-before-seen levels. Their latest circus show
Their latest circus show Odysseo is larger-than-life (the tent at Soldier Field is 125 feet tall, the stage is bigger than the United Center Ice Rink and requires 10,000 tons of stone, earth, and sand to create, there is a waterfall that uses 40,000 gallons of recycled water) and the show features up close shots of the performers and horses on an 8400 sq ft screen)
It is also a feast for the eyes that succeeds in delivering the spectacular with soul. Audiences of all ages are passionately rediscovering the century-old relationship between human and horse.
As friends, partners and inseparable performers on stage, 65 horses and 48 artists lead the spectators on a great journey in a world of dreams where, together, they discover some of the planet's most unforgettable landscapes.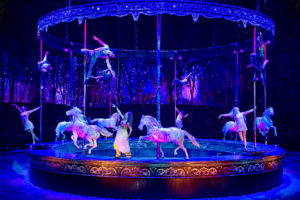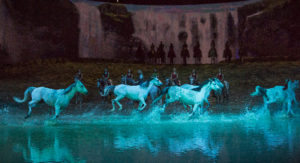 To find out more and purchase tickets, visit
https://cavalia.com/chicago/
---
Cirque du Soleil will also make an appearance here starting in June, but I'll have to tackle that another time!